Western companies eying to tap the potential in emerging markets are somewhat lagging behind in seizing the opportunity. This is due to the fact that these markets run primarily on FRUGAL products that these companies often find it difficult to develop.

The reason why frugal products are so much important is because these products account on average for 12% of sales which is expected to double in the next five years. These are positioned in the low and mid-end segments of the emerging market, where western companies are typically in weaker positions. A 2015 survey from Roland Berger estimates that by 2030, the world's middle class population will triple in number, leading to 4.8 billion potential buyers in the market. The survey also estimates that four out of every five potential consumers will live outside Europe and USA. Emerging economies of the world like Brazil, India, China and other Asian countries as such will play a major role in deciding the profits of product manufacturers.
For manufacturers to grab this opportunity, it would require a complete overhaul of their ways of working. They will need to focus on building a frugal operating model that concentrates on core functionalities, integrates local needs, identifies cost-effective production processes and utilizes right technologies to optimize the product design for optimum performance at lowest possible manufacturing cost.
What Frugal Actually Means?
FRUGAL is an acronym that stands for Functional, Robust, User-friendly, Growing, Affordable and Local. The concept of frugal has numerous applications in different industries. For example Tata's $3,000 car for India or Nokia's 1100 cell phone developed for middle class consumer in emerging countries. The similarity between these different products is that they were made affordable yet robust and reliable, making them ideal for the emerging market. To simplify, frugal products should offer the core functionality of the non-frugal variant but with redesigned product with reduced features and components without losing the reliability.
There are few hurdles however that prevents western companies to gain profits out of these markets through the FRUGAL approach. There will always be internal resistance present due to lack of awareness and acceptance in a culture where risks are usually avoided and development is high-end and quality driven. The main hurdle however is the established standard product development processes that consume lot of time and cost, which actually doesn't suit for FRUGAL products. This is where bigger companies lose the race to local competitors that are faster and flexible.
The scenario however best suits to apply the capabilities of simulation tools that can optimize the design and help in reducing the cost significantly.
How Simulation Can Help
Manufacturers can reap the benefits of simulation tools to design frugal products for the emerging market. With the application of design optimization using FEA, several different versions of the product can be devised without compromising the quality. This may include removal of excess material or use of different material altogether to reduce the weight and cost considerably.
Moreover, with simulation the long standard process of product development can be reduced as number of physical tests required is less as only the final optimized design is put for validation. With simulation tools, fancy features that do not affect the design intent can be eliminated with confidence without actually working on any prototype. This helps in reducing unnecessary cost, helping manufacturers to develop frugal products for the demanding customers.
A small example can be explained in developing parts for automobiles. A normal car makes use of number of elements like clamps, support structures and other castings that help in providing the structural support to major automotive components. However, the same casting components can be designed using topology optimization which helps in identifying design that uses less material while still doing its job of providing support efficiently.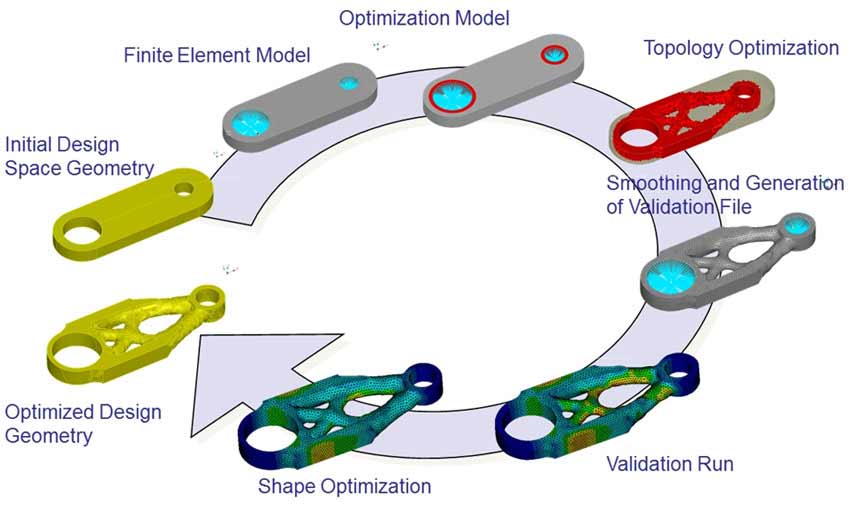 The technique tries to explore the available design space considering the constraints involved and provides the designer a model that is optimized in material usage without compromising the performance. When applied at a larger scale across all the automotive components, not only there is a benefit of weight reduction, but there's a straight saving in cost. This is precisely what any automotive manufacturer would want, to bring competitive and cost-effective models for the rising middle-class population.
Companies thus needs to apply frugal principles right from the design phase and develop a model that best understands the local market requirements, in order to develop a strong position in the emerging markets. Applying the capabilities of CAE and design optimization tools can clearly complement the development of FRUGAL products that can turn profitable for both the organization and the consumer.