Outdoor furniture manufacturers have embraced the latest digital technology to deliver innovation with personalized designs. The detail-rich models created in 3D design platforms enable accuracy, accelerated design time, and reduced costs.
Global market research shows that the outdoor furniture market exceeded USD 15.7 billion in 2020 and is set to grow at over 5.9% CAGR from 2021 to 2027. But the variety sought by customers in furniture functions, features and aesthetics has multiplied with technology opening up possibilities. Another driving force that heavily influences the design of outdoor furniture is varying weather. For example, research by Technavio suggests that demand for patio heating products will rise and drive market growth in the near future.
By adopting 3D CAD using SolidWorks and AutoCAD, and design automation, outdoor furniture manufacturers can seamlessly transform innovative concept designs into final product. It not only eases the workflow but also accelerates furniture design development cycle.
These modern parametric CAD platforms store product libraries, allow faster fundamental design changes, offer 360-degree visualization and configuration, and direct manufacturing through high-end integration and automation.
3D CAD platforms have empowered outdoor furniture manufacturers to reduce design lead times by over 30% and order-to-manufacturing lead times by over 20%, making their businesses more resilient and sustainable.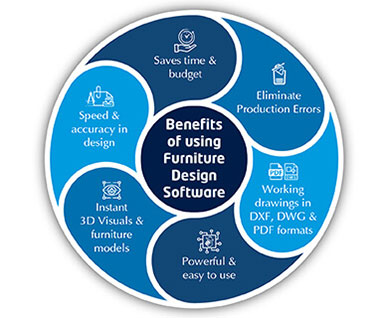 Challenges faced by furniture designers and manufacturers
First comes the design
Outdoor furniture products have different shapes, sizes, material combinations, like wood, metal, and plastics, for increased durability, aesthetics and usage.
For example, benches used in patio furniture may have normal loads of seating benches, but the ones used in public parks endure higher loads and extensive maintenance. Also, a patio bench needs to be more appealing & lightweight while benches in public parks need to have durability.

Next comes the designer
Designing modern outdoor furniture requires experience and knowledge of art, science, and technology. A specialist designer needs to have skills in using 3D modeling techniques to deliver a balanced blend of materials and shapes that meet engineering standards.
The prototype and production
The designer needs to test the initial concept prototype to adhere to standards like ANSI and BIFMA for safety and comfort. Alongside, customers in sectors like hospitality or public places like bus stops, airports and railway terminuses, or public places like museums, hospitals, etc. also need quick visualization. Outdoor furniture, thus, requires precision manufacturing drawings suitable for CNC machines and 3D printers.
Collaboration
Any outdoor furniture manufacturer requires a high level of collaboration between sales, design, and manufacturing. A great amount of time is lost in transferring design concepts from sales to engineering and manufacturing. It is usually a long iterative process. A single error increases material scrappage and waste of development efforts. It is, therefore, necessary to have seamless collaboration among the team.
How 3D CAD platforms enhance productivity for outdoor furniture manufacturers
For creating great designs of outdoor furniture, design engineers must have knowledge in:
Design theory (human factors, ergonomics, proxemics, comfort, social use)
History of furniture design and trends
Design application (processes, methods, techniques, flexibility)
Material research (cost, durability, eco-friendliness)
Fabrication technologies (cutting, machining, forming, assembly, painting, packaging)
Maintenance (weather resistance, replacement, and recycling)
Professional communication and collaboration
From conceptualization to manufacturing of outdoor furniture, 3D CAD platforms have completely transformed the design pipeline and assisted design engineers in performing multiple tasks. Besides greatly reducing iterations and errors, they have also helped to automate processes and mundane design tasks while providing a comprehensive platform to collaborate and communicate.
User-friendly programs, interface, and furniture design specific plugins
The best furniture 3D design platforms like SolidWorks, AutoCAD or Inventor provide tools for furniture designing that conceptualize and design professional-quality furniture. These tools help design engineers with:
Visualization, design and concept ideation
Creating complex design
Seamless sharing of work files in real-time
Using an intuitive program interface, a designer can quickly sketch concepts and design various innovative furniture options in 2D and 3D CAD modeling. These user-friendly platforms do not require highly skilled designers and with little training, even a novice engineer can create high-level design models.
Material-specific CAD plugins
Wood is the most preferred choice for outdoor furniture manufacturers followed by sheet metal and glass. Given the specific physical characteristics of each material, the manufacturing methods and details in shop drawings vary a great deal. As a result, most 3D design platforms offer material-specific plugins for designer's efficiency.
Below is a comparison of three prominent CAD software platforms.

For metal furniture, design platforms use sheet metal-specific programs to form features like flanges, holes, notches, bends, etc. These plugins allow the user to have material-specific design parameters like bend factor and to develop flat forms.
Designers can quickly change the shape and dimensions in a design to adopt integrations and generate aligned forms.
Extremis, a Belgium-based outdoor furniture manufacturing company, improved efficiency throughout their value chain using SOLIDWORKS. It used the program for adding materials, tweaking measurements, thus saving time and money. From design to blueprint and from marketing to manufacturing, Extremis used SolidWorks to boost collaboration and productivity in its end-to-end furniture manufacturing pipeline.
Source: Pelfinfotech.com
Parametric design offered by 3D CAD platforms allows the designer to quickly generate multiple 3D configurations of products with changes in dimensions, material, and load-specific criteria. For example, a garden chair can design on 3D CAD platform can offer over 1,000 configurations to choose from.
Using plugins and macros you can automate repetitive tasks like:
Generating similar patterns
Mirroring, dimensioning, drawings
Developing part families
BOM generation
Creation of flat pattern
DXFs and documentation for manufacturing and sales.
Automation of these tasks cuts down the overall design to manufacturing time while improving the efficiency of design.
3D visualization, configuration, and virtual validation
CAD platforms allow designers to have 360-degree visualizations and share concepts among the team for quick feedback and review approvals.
In-built validation programs for FEA and CFD, allow quick checks of load, temperature, and environmental effects on outdoor furniture designs. These virtual simulation tools speed up design testing and reduces cost by sparing the manufacturer from destructive testing methods.
Also, 3D rendering for environmental modeling helps to gauge the impact of a design model against all possible backdrops and landscape contexts. And virtual walkthroughs using AR/VR make design reviews more effective and enhance the digital customer experience.
Ready-to-use part libraries and access to standards
SolidWorks and Inventor provide in-built ready-to-use 2D blocks and 3D CAD models for various outdoor furniture products, including chairs, benches, umbrella sheds, etc. With the use of these readymade 3D models and 2D blocks, a designer can quickly tweak shapes and sizes and get designs ready in hours.
Today's 3D CAD platforms are also connected with organizations of standards and patents, so a designer can access these documents easily. Also, in-built compliance algorithms and rules prevent major mistakes and legal conflicts.
Collaborative platform for all functions
Modern 3D CAD platforms can have workflows integrated with PLM, CRM, ERP, and MES. This enables seamless collaboration in real time among separate verticals like sales, design, manufacturing, and other business functions like ERP and supply chain.
A US-based outdoor manufacturing company has reduced the design cycle time by 30% with the use of SOLIDWORKS as a 3D design platform while expanding its product line by 350%.
Source: Blogs.solidworks.com
Conclusion
To avoid losing market share and optimize costs, outdoor furniture manufacturers need to improve and automate their sales-to-manufacturing workflows. With design being at the core of manufacturing, fewer errors and quicker design finalization with 3D CAD platforms change the entire manufacturing operations for better.
Whether you want to accelerate design cycles, have fewer faults, want better validation or stronger collaboration, 3D CAD is indispensable for outdoor furniture manufacturing. However, lack of infrastructure, latest tools and technologies, and skilled workers continue to be a barrier which is overcome by delegating or outsourcing 3D CAD design work to experts.