From primitive era's stone cupboards and beds to 21st century levitating tables, we humans have been on a continuous journey to improve the furniture around us. From materials to aesthetics, furniture has a different meaning for customers today, yet the focus remains the same – experience. The furniture design and manufacturing industry today is huge and the sales are expected to grow by 5% YoY in the United States alone. While this industry revolves mostly around customization, improvements in technology, global markets, seamless connectivity and access to information are altogether redefining the future of this industry.
Let's have a look on these paradigm shifts that are happening in the furniture design and manufacturing industry.
Customer Experience
The future of furniture design and manufacturing sector will mostly revolve around enhancing customer experience through breakthrough design and manufacturing technologies. Starting off, the recent joint venture from Dassault Systèmes and BDHOME, a leading retailer of affordable home decor in China; developed 3D technologies to provide unique experience to the customers. Apart from 3D content and services for furniture manufacturers like virtual furniture catalogues for customization, construction and decorating materials, consumers can use online interior design application to visualize and customize interior décor ideas.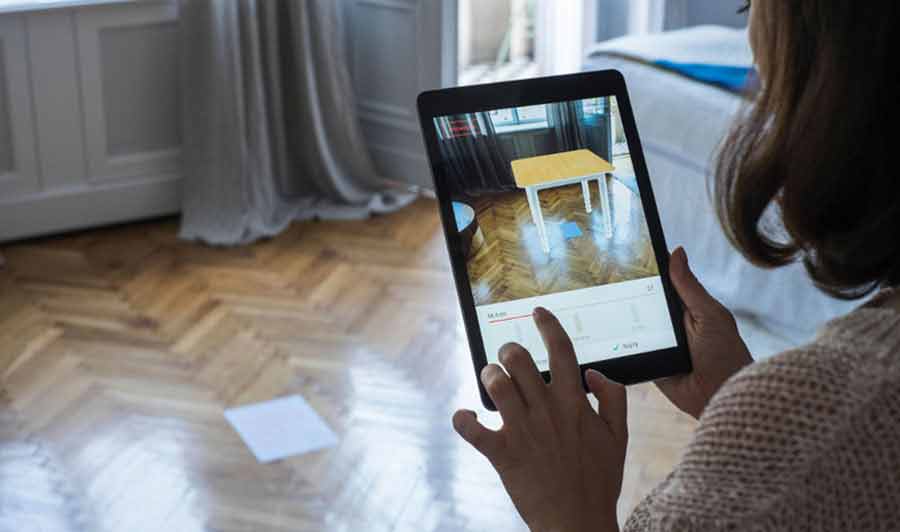 Source: https://tylko.com/
However, Tylko upped the ante in improving the customer experience by bringing in augmentative reality, which allows customers to easily design and adjust the furniture dimensions as per the available space. Using their iOS App, customers can see the furniture in the space they want it to be virtually, and can adjust the dimensions and other geometrical aspects with touch of a button. The efforts are thus being made in extending the showroom experience into customer homes.
Generative Design
New evolving technologies and machine learning capabilities have made it possible to develop new design approaches like "Generative Design", which can design objects on its own. The designer simply has to share the goal with the computer and using genetic algorithms, the computer will develop possible design concepts that we humans can hardly imagine. One of the recent applications of generative design is Joris Laarman's Bone Chair developed using an algorithm that translates the complexity and functionality of human bone as well as tree growth into a piece of furniture. The algorithm originally developed by a German scientist, Claus Matthek, is based on the development patterns of human bones and trees that use material only where strength is required, thus minimizing the use of extra material.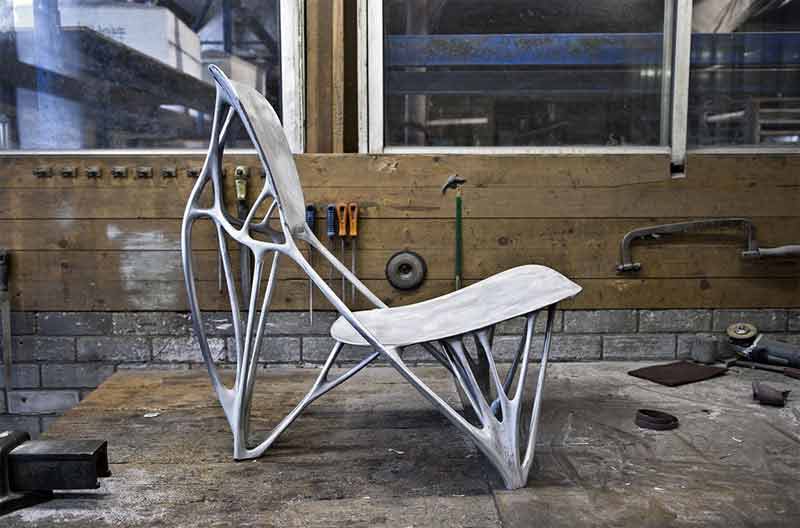 Source: http://www.jorislaarman.com/work/bone-chair/
3D Printing
The 3D printing technology is already disrupting the conventional manufacturing industry. The layer by layer printing approach makes it possible to develop complex designs within hours, which practically isn't possible with traditional CNC and laser cutting methods. The additive manufacturing also compliments the generative design approach to build revolutionary furniture designs. What makes this technology worth today is the capability available to print different materials apart from plastics that are used to build prototypes.
Sharing Economy to Furniture Making
Sharing economy revolution has already rolled out and affected many products and services. Uber and Airbnb are some of the best examples of this approach and something similar is happening with furniture manufacturing as well. A London based company called Opendesk is bringing this change. It connects the customers looking to buy furniture with designers and manufacturers. Through the website, customer can choose the furniture that they want to buy. Once selected, they are then presented with local manufacturers who can fulfill the order. Customers will then receive quotes from the selected manufacturers via email and choose one of them to get the furniture manufactured and delivered at home.
How Existing Players in the Market Should Respond?
Furniture is all about customization today. People are looking to buy furniture in their own ways. They want to choose their furniture colors, personalize it and connect to it more than ever. Looking at the availability of information resources, technology and seamless connectivity, existing players in the market must equip themselves with right people, process and technology. They must adapt to the changing market scenario, use right technology, choose the right partner to scale the productivity and focus on the core idea of enhancing the customer experience.
Being an innovative and productivity partner to some of the leading furniture manufacturers globally, Hitech Engineering Services has developed extensive experience of more than 10 years in delivering furniture design solutions. We keep on evolving ourselves with the evolving trends in the furniture sector to serve as a strategic partner rather than providing traditional outsourcing services.
Our commitment to excellence is a key driver in this direction, which has enabled us to convert ourselves from a service provider to a center of excellence for design automation. We are equipped with market leading tools like SolidWorks, Inventor, SolidEdge, Creo and ANSYS to support design development right from conceptual stages. Our capabilities in topology optimization and 3D printing technologies further assists present day furniture manufacturers to implement innovative design concepts quickly and establish themselves better in the market.