With more than 3 million users all over the globe, SOLIDWORKS leads the CAD industry with nearly 50% market share. The tool has been helping designers, engineers and manufacturers in number of ways and making it possible to ideate, design and manufacture high-quality products with enhanced productivity.

Globally, engineers rely on the capabilities of SOLIDWORKS to efficiently convert complicated product design ideas to manufacturing ready 3D CAD models and drawings that can be put straight to manufacturing with quickest turnaround. The parametric modeling facility empowers designers to quickly develop complex parts and assemblies, evaluate them through simulation and push the designs for fabrication or manufacturing faster.
As a leading CAD service provider, we have been utilizing this intuitive tool for our client projects that range from sheet metal furniture, industrial equipment, automotive parts, heavy machinery and building products. Over a span of 15 years, we have developed extensive experience in working with SOLIDWORKS and add-on design automation tools like DriveWorks.
The flexibility and user-friendliness of the tool has made SOLIDWORKS as our first CAD software choice, and we often explain our clients about the benefits of this tool and why they should also adopt it for their product development requirements. The tool provides significant productivity benefits across all the design development tasks right from 2D drafting to 3D modeling, animation, virtual testing and production release.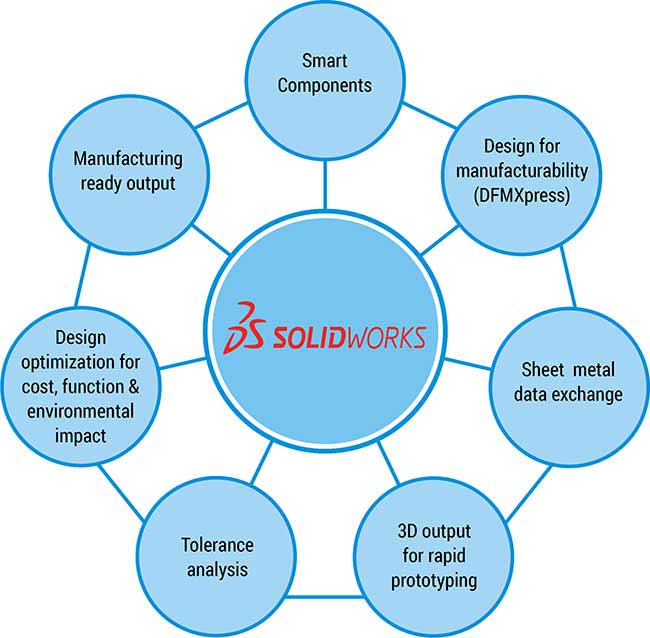 2D Drafting
SOLIDWORKS easily lets furniture manufacturers, industrial equipment manufacturers and fabricators to create production ready drawings and the associativity with the 3D model ensures that any update to the model is reflected in the drawing automatically. Besides, the tool has other features for efficient 2D drawings development such as inclusion of standard CAD GD&T (Geometric Dimensioning & Tolerancing and Annotations) methods to quickly incorporate in the assembly drawings and fabrication drawings.
The Design Checker feature further allows comparing drawings to Company standards in order to ensure consistency. The tool also allows automatic generation of cut lists and part lists for BOM (Bill of Materials) requirements. The drawing capabilities of SOLIDWORKS also include revision control, which allows users to graphically compare drawings and control the versions effectively.
The automated creation of radial/cylindrical exploded views further speeds up the creation of drawings consisting of exploded views for designs that have fasteners and components positioned radially/cylindrically around an axis.
3D Modeling
The 3D modeling capabilities is where SOLIDWORKS turns out to be an excellent tool compared to others. With our experience in handling leading CAD tools available in the market, SOLIDWORKS has the shortest learning curve with both parametric and direct modeling capabilities. The massive library of commonly used components and parts makes it easy for furniture manufacturers and equipment manufacturers to quickly generate assemblies and manufacturing documentation.
The Model Based Design (MBD) further enables a paperless manufacturing environment for enhanced productivity and reduction in scrap. With SOLIDWORKS, it is possible to generate complex solid and surface geometries and also instantly analyze the model for mass and other physical properties. The tool also has powerful sheet metal design capabilities to assist fabricators in quickly generating 3D sheet metal models, flat patterns and DXF outputs for CNC cutting.
SOLIDWORKS Composer further makes it easy to generate instruction manuals and catalogs quickly with easy to use in-built tools and features.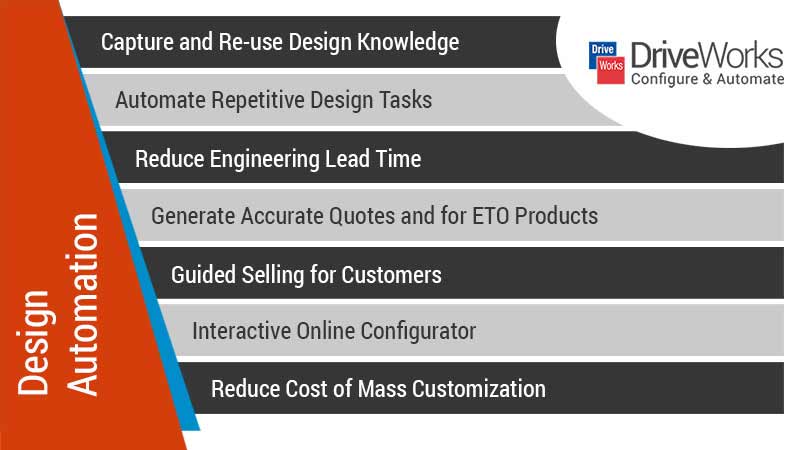 The add-ons in SOLIDWORKS help users to take their product designs to a next level and get the best productivity out of the tool. Design automation tool such as DriveWorks is an excellent example of automating repetitive drafting and modeling tasks in SOLIDWORKS by establishing logic rules in a rule builder.
The master model created once can be utilized to generate different configurations by simply selecting the driving design parameters through a form. This type of capability is well-suited for manufacturers of configurable products such as furniture and industrial equipment, also known as Engineer-to-Order (ETO) products.
The advanced versions of DriveWorks (Solo and Pro) also allow manufacturers to implement automation for sales functions to quickly generate accurate quotes for each custom product design. The Pro version specifically allows users to develop an online configurator to further enhance the guided selling approach for end customers.
Hire Certified SOLIDWORKS and DriveWorks Professionals
Hitech Engineering Services delivers CAD and design automation solutions to wide range of industry verticals. We have developed more than 15 years of experience in converting 2D processes to 3D with a team of certified SolidWorks professionals.

If you are looking for qualified resources that can handle your design tasks and help you in improving productivity, Hitech is indeed a one-stop solution. We have also transformed our engineering facility to Centre of Excellence (COE) for Design Automation and have successfully implemented DriveWorks for number of our clients. Right from project discovery sessions, software installation, training and deployment, Hitech has delivered end-to-end support for existing as well as new DriveWorks using organizations.