Doors require a long design curve, as they are among the most highly customized products in building systems. Visual door configurators simplify the process and accelerate design development with enhanced visualization and technical documentation.
Doors seem to be one of the simplest components across any building design system. But designing and manufacturing custom doors is a challenging task. Door and frame manufacturers usually have a fixed production set-up while customization involves several dynamic factors. Major factors contributing to this complexity include changing customer needs and design preferences.
At the same time, technological advancements including automated production systems and digital design tools have increased manufacturing efficiency and the ability to stay competitive.
Visual CAD configurators simplify door design and manufacturing. They offer a visual and interactive platform for design communication across organizations and with customers. They also use logical rules to customize designs and door accessories like locks, hinges, frames, etc., and quickly generate manufacturing drawings.
Challenges of using standalone CAD systems for door designs
Iterative design process: The process of designing doors is usually iterative to ensure every customer demand and specification are met. It generally takes a few days to develop a complete design of doors incorporating feedback, changes, design needs, etc.
Multiple options for single hardware: Every door installation uses different hardware based on the door application and the primary door material. And hence, every customer has multiple options to choose from, leading to a never-ending change cycle in design detailing.
Tedious and time-taking development of custom manufacturing drawings: Traditional standalone CAD systems follow a 'start-from-scratch' option each time a custom order is received. It is extremely time-consuming and prone to errors.
Thus, designing doors with traditional CAD systems has started to fall short for modern custom door manufacturers. Additional automation tools like CAD macros and visual configurators offer efficient solutions for faster design development and a higher level of accuracy in drawings.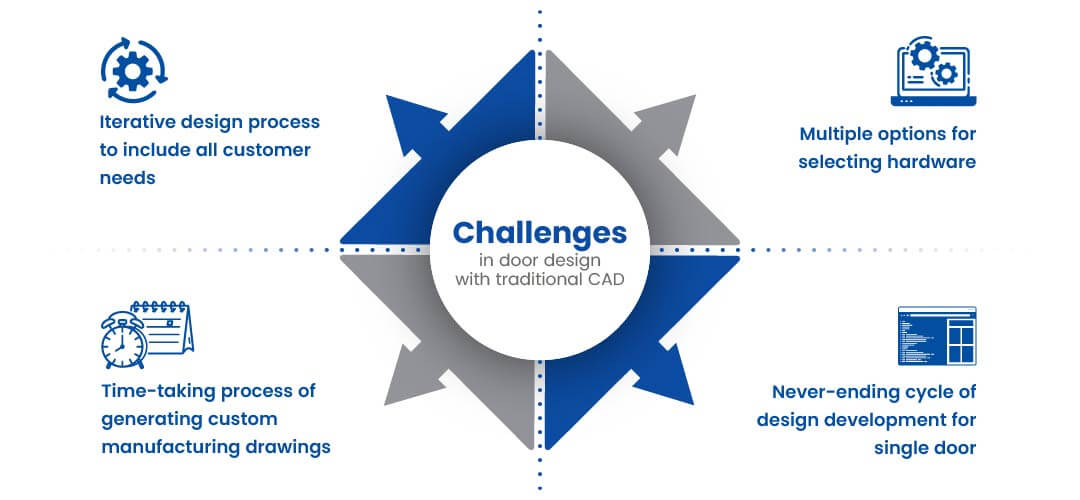 How a visual door configurator helps manufacturers overcome these challenges
1. Accelerates your design development process
A visual configurator offers a wide range of customization options for door parts, hardware, accessories, etc. For example, all possible materials like glass, wood, types of metal, etc. colors, finishes, dimensions, etc. are pre-populated in the CAD configurator to select from.
When the configurator is deployed with the standalone CAD system, the user – a customer or a design engineer can experiment with different combinations. It offers instant visualization of the final results, speeding up the exploration of design possibilities and reducing the time required for manual mock-ups.
Configurators are essentially backed by a powerful rule engine – logical rules written by the design engineer. In DriveWorks, – a popular design automation platform used with SolidWorks 3D CAD; the user has a rule builder module where they can write logical rules to guide the customization process. The user can interact with these tools to customize the product within predefined design constraints specific to the product.
Hitech Engineering Services' design automation team used DriveWorks to help a US-based hollow metal door frame manufacturer accelerate door designs by 70%. What took multiple days for the manufacturer to design development was now done in a few minutes.
2. Offers better visualization to customers
One of the most promising benefits of visual configurators is that they offer an interactive, immersive, and visually appealing platform to customize complex products. It shows a high-quality rendered image or a 3D model of the customized product to see the door from different angles.
The designer or the customer can view and evaluate different door design combinations, and analyze their aesthetic appeal, and functional aspects. It allows them to also visualize how the door fits in with the rest of the building architecture.
Visual configurators offer a user interface where customers or users can interact with the software to customize the product. The user can click-drag, or toggle various elements to make selections, adjust dimensions, or rotate the product for a real-time preview.
Configurators are also equipped to perform automated checks and validations to ensure that the generated designs meet specified criteria and constraints. Since the logical rules drive the customization process, the designs hardly ever go out of the scope of the shop floor.
By deploying a DriveWorks door configurator, an US-based hollow metal door manufacturer could resolve many sales-related challenges. Enhanced design visualization through the configurator eliminated significant gaps in design communication between designers, the sales team, and customers. It, thus, resulted in cohesive sales experience for customers and minimal iterations.
3. Gives technical documents with a few clicks
Once the users have given their inputs for door specifications and confirmed the order, the configurator is prompted to create technical documentation. It generates customized 3D models and manufacturing drawings with BOMs, specifications, installation guides, and assembly instructions.
There are SQL databases that are saved in the configurator's memory with predefined templates and manufacturing rules. These templates are triggered at the start of the customization process. And by using data from SQL databases, they can generate manufacturing drawings with 99.99% accuracy.
These drawings include detailed representations of the customized doors, including dimensions, wood type, special qualities like fire resistant, soundproof, bullet resistant, etc., and other relevant manufacturing details.
Essentially, with visual configurators, the time between sales/order confirmation and manufacturing can be drastically reduced. In some cases, door manufacturers are empowered to initiate manufacturing the same day as order placement. It saves significant time for manufacturers and eliminates rework with reliable, accurate, and error-proof manufacturing drawings.
Conclusion
Today, standalone CAD platforms cannot meet the changing needs of the door manufacturing industry as the demand for custom doors keeps increasing, with sufficient technology available to fulfil those needs. Traditional tools fall short of establishing a coherent and cohesive communication channel between sales and engineering.
Implementing a visual door configurator accelerates design development time even for the most complex designs. It offers a highly immersive visualization during sales and enhances the overall sales experience. Door configurators help manufacturers streamline the entire sales-to-manufacturing process with reliable documents on time.