Why Custom Furniture Modeling?
We develop rule-based product configurators to help manufacturers deliver what their designers ask and the end-user seeks. Whether it is a furniture piece for a library, office, home, or any other application, we can help you generate accurately configured fabrication drawings, advanced BOMs, installation guides along with real-time 3D CAD models of the configured product.
A quick glance at our CAD drafting services for custom furniture modeling:
CAD drafting for seating arrangement, wooden shelves, storage furniture etc.
Cabinet drafting, custom casework drawings and architectural millwork drafting
2D/3D CAD for furniture accessories: Locks, hinges, knobs, stoppers, etc.
Custom furniture drafting for commercial spaces: Workstations, Office Desk, Reception Desk, conference etc.
Converting Paper based/PDF drawings to CAD drawings and models
Preparing production ready CNC compatible files in DXF formats
Woodworking furniture industry specification drawings
Design automation for custom-made metal and wood furniture
Veneer selection, surface finish drawings, etc.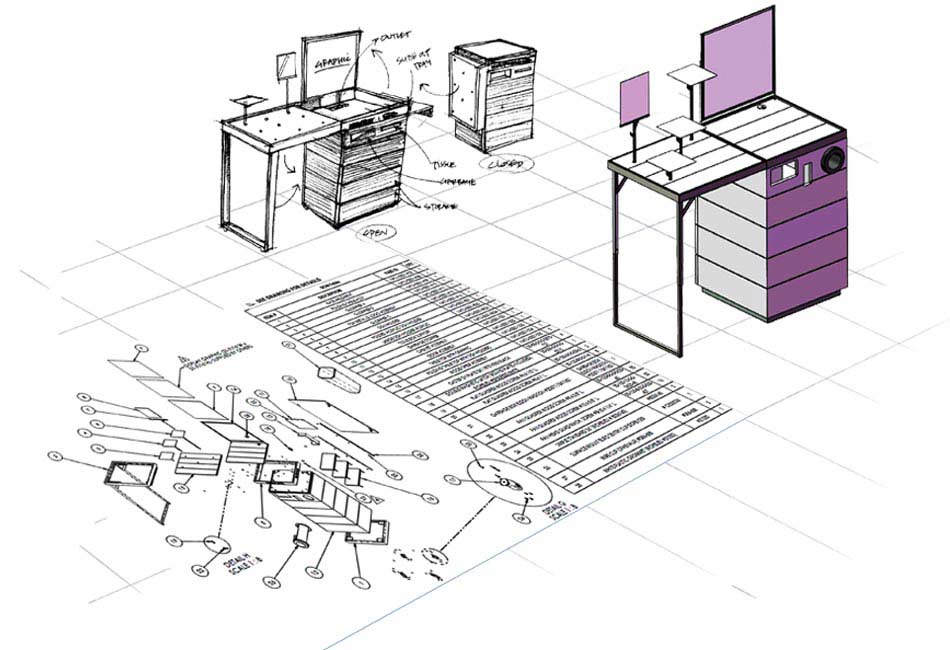 Designers' Dilemma:
Shrinking spaces means furniture has to multi-task.
Our CAD drafters partner with manufacturing companies and interior designing firms to develop manufacturing, assembly and set up sequencing drawings of furniture products they designs. We have the capabilities to work with any regulatory furniture design standards established by governing bodies such as AIA, TEMA, ANSI, etc.
We cater services to enlisted segments:
Commercial Store Furniture: For Retail stores, Shopping malls, Showrooms, etc.
Residential Furniture Modeling: Kitchen, Living Room, Dining, Bath Rooms, Seating Arrangement, Storage, Outdoors, etc.
Architectural Ornamental Furniture: Stairs, Handrails, Balustrades, Doors, Windows, Louvers, Grills, etc.
Recreational Furniture Modeling: Parks, Hotels, Restaurants & Bars etc.
Office Furniture Modeling: Office Desk, Workspaces, Drawers, Partition, Reception Desks, Waiting & Welcoming etc.
Street Furniture Design: Benches & Seating, Public Toilets & Partitions, Signage, Trashcans
Casework Furniture: Display cabinets, Kitchen Cabinets, Racks and Shelving systems, etc.
Upholstery: Color palate and surface finish for custom designs
Our collaboration helps your engineers to focus on innovative designs while we take care of CAD drafting.