With more than a decade, Hi-Tech has enabled manufacturers to improve product design development processes and take informed decisions at shop floor through 2D CAD drafting outsourcing services.
Our mechanical engineers convert conceptual sketches to editable 2D drafts for mechanical products and equipment to utilize the design information for downstream product development applications.
From layouts and assembly drawings to manufacturing and fabrication drawings, we deliver CAD drafting and design services with respect to specific standards and codes requirements such as ASME, ANSI, API, etc. Our engineering facility in India is equipped with industry leading CAD tools and high-performance workstations to carry out projects of any scale and complexity.
We have developed wide experience in delivering 2D CAD drafting support for sheet metal fabrication, tool design, aluminum sheeting and other sheet metal products to automotive OEMs and ancillaries, furniture manufacturers and industrial equipment manufacturers.
Our mechanical drafting services include:
We produce high quality fully complaint drawings such as:
Concept Drawings, M&E Drawings, Fabrication Drawings, Manufacturing Drawings, Patent Drawings, Schematic Drawings, Shop Drawings, Coordination Drawings
We offer the main CAD Conversion types:
Paper to CAD: Using Paper Drawings to create new CAD Models/Drawings
2D to 3D: Converting AutoCAD drawings to 3D CAD models Using Inventor or SolidWorks
DWG (AutoCAD) to DGN
2D and 3D assembly drawings from manual blueprints
Manufacturing drawings and 2D drafts
Plant layouts, pipe routing, process chart, electrical routing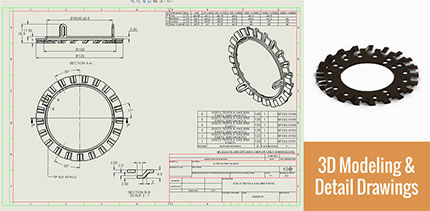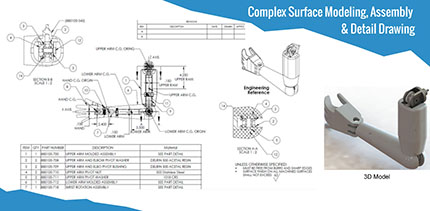 FROM THE BLOG
News, Industry Insights, Company Information and much more...