At Hi-Tech, we collaborate with client's design teams to turn conceptual ideas, mockups, hand drawn sketches and 2D drawings into 3D CAD models to better review and realize the design intent. Our product development team documents your legacy part in 3D, allowing significant reduction in development time.
With over a decade of experience in delivering CAD design services to clients across the globe, our 3D CAD modeling solutions improve your production processes by allowing quick design revisions and virtual functionality evaluation prior to manufacturing. The 3D assembly models further provides your team the opportunity to plan the manufacturing and assembly processes early in the development cycle, reducing the cost of expensive tooling.
Our 3D CAD modeling services include:
3D Solid Modeling
We create 3D solid models for small, large and complex mechanical parts and assemblies to boost design development and detailing, quickly develop design revisions and improve visualization and communication related to product design.
Large Assembly Design
We develop CAD models for large assembly designs to help you document large design data and accelerate design process, streamline quick overviews and enable easy editing of large designs and plan for downstream manufacturing steps.
Sheet Metal Design
From design through fabrication, we help sheet metal designers to accelerate the sheet metal design process, easily edit or revise the design with better flexibility, quickly generate CAM-ready flat patterns DXF including bend compensation and accurately estimate sheet metal manufacturing costs.
Frame and Weldment Design
Our fabrication design team develops models for welded structures, frames and bases to quickly generate manufacturing documentation with BOMs and cut lists and increase design accuracy of welded assemblies.
Piping and Tubing Design
Our expertise in piping and tubing design helps you to ensure efficient assembly, operation and serviceability, improve manufacturing process with accurate bend tables, cut lengths and BOMs and provide bend table inputs for CNC benders.
Electrical Cable Harness and Conduit Design
With industry-leading software capabilities, we design electrical cable harness and conduit to accelerate routing for electrical wires, harnesses, cables and conduit assemblies, speed up manufacturing with detailed BOMs and wire cut lists and ensure efficient product assembly and serviceability.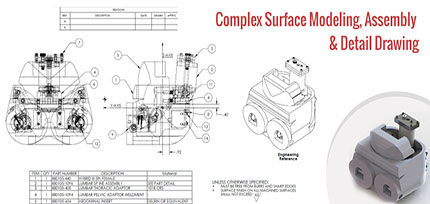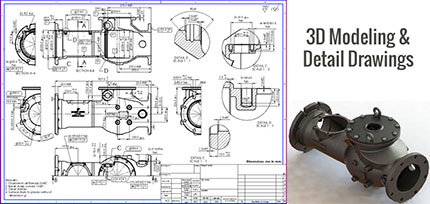 FROM THE BLOG
News, Industry Insights, Company Information and much more...