Rapid Prototyping Services
Hi-Tech is one of the leading rapid prototyping companies in India providing metal prototyping, plastic prototyping services to industrial manufacturers, product design engineers and design firms.
With the increase in the use of rapid prototyping technology, we strictly follow all the necessary rapid prototyping methods & standards providing state of the art 3D prototypes and models. We have in-house project management team, who have years of experience creating various types of 3D modeling for metal prototypes, laser metal sintering rapid prototyping, plastic and sheet metal rapid prototyping.
Our rapid prototyping services include 3D prototyping, urethane casting, rapid industrial 3D prototyping and advanced additive manufacturing services. With a dedicated team for rapid prototyping and industry-leading CAD software such as SolidWorks, Autodesk Inventor, PTC Creo and more, we bridge the gap between virtual design and actual manufacturing.
Our Rapid Prototyping Services Include:
3D CAD modeling for additive manufacturing requirements
Mock-up development for design review using STL file
Converting CAD model to STL format
Rapid Prototyping of rubber parts, plastic parts, machined parts and industrial parts.
Rapid prototypes for appearance models, proof of concept prototypes, design evaluation models (Form, Fit & Function), engineering proving models (design verification), product performance & testing, wind-tunnel test models
Tooling and patterns for rapid tooling (concept development & bridge tools), injection mold inserts, tooling and manufacturing estimating visual aid, investment casting patterns, jigs and fixtures, foundry patterns – sand casting
Help produce 3D models and prototypes to test and verify design before full production begins
Our Rapid Prototyping Sample Project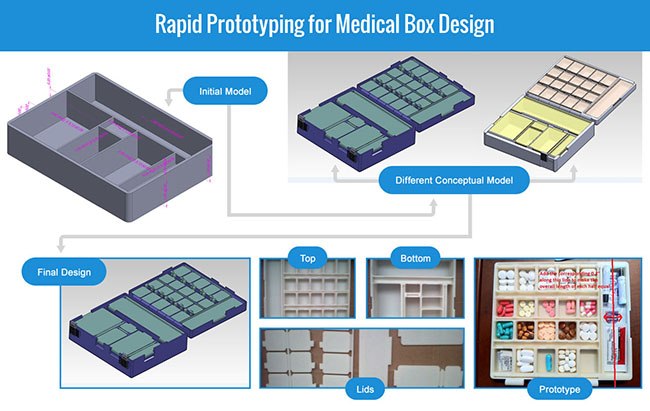 Get in Touch
info@hitechengineeringservices.com
Tel: +91-794-000-3252
Hi-Tech Engineering Services
Hi-Tech House, Gurukul, Ahmedabad - 380052, Gujarat - India.