Hi-Tech serves as a design support extension for automotive OEMs and aftermarket parts manufacturers, providing engineering design information across all the product development stages.
We enable the development of high quality, efficient products for a demanding automotive market, through our experience in developing digital design information using 2D manufacturing and assembly drawings, 3D CAD modeling and virtual testing.
Our engineering and design teams are experienced in delivering product/part design for important automotive modules such as exterior body, interior, powertrain and chassis. With over a decade of experience and industry knowledge, we have been efficiently utilizing technology to drive informative and intelligent design processes to help manufacturers in moving faster from modeling to decision making.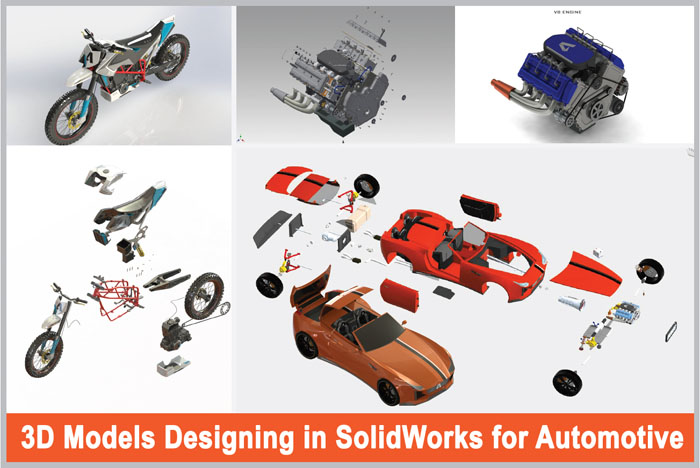 Hi-Tech's strategic alliance for engineering and designing of automotive components has proved significant for OEMs and ancillaries in improving the collaboration between in-house teams, reduced design iteration cycles and expedited the manufacturing processes. Our scalable infrastructure and resource capabilities further benefits clients seeking support for large scale and complex projects.
For Automotive OEMs and Suppliers, we deliver design support for:
Body: 2D and 3D model development for body panels, doors, roof, fenders, etc.
Powertrain: Manufacturing and assembly drawings, 3D models and animation for engine and components, gearbox, transmission system components
Interior: 3D modeling and assembly drawings for seating systems, dashboard, HVAC, steering components
Chassis: Detailed fabrication drawings, assembly drawings and 3D modeling for frame, suspension and brakes
FEA structural, thermal, vibration and fatigue analysis of components and assemblies
CFD simulation for aerodynamic and HVAC analysis
Industries We Serve
Explore Our Work
FROM THE BLOG
News, Industry Insights, Company Information and much more...