Download PDF
Separation Efficiency Estimation of Oil and Gas Separator
Client Profile
The Client
Offshore Equipment Manufacturer, India
The Objective
To estimate the separation efficiency of the oil and gas separator
The Solution
The separator design was analyzed through CFD to estimate the separation efficiency. The results obtained were close to the claimed efficiency of 99 percent.
Software Used
ANSYS Fluent 15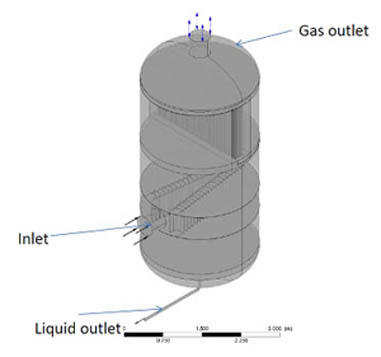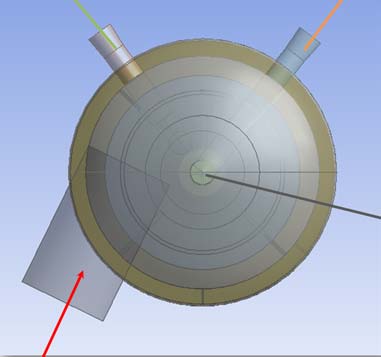 The separating efficiency of oil and gas separators is dependent on factors such as physical and chemical characteristics of the crude, operating pressure and temperature, rate of throughput and the separator configurations. A leading offshore equipment manufacturer needed simulation solution for the oil and gas separator designed to provide the separation efficiency of 99 percent.
Challenges
Developing simulation model with accurate physics to capture useful results
Ensuring the volume fraction of gas and liquid to be as per the real conditions
Engineering Solution
The separator aimed to provide 99 percent of separation efficiency was modeled through CAD tools and the simulation domain was identified. Considering the volume fraction method, suitable turbulence models and boundary conditions were applied.
Volume fraction at liquid outlet and gas outlet were measured and were found close to one, suggesting that the separator design was adequate to provide the separation efficiency above 99 percent.
Benefits
Provided a comparative simulation solution to valid the claimed efficiency
Reduced number of physical test trials required
Download PDF
Contact Information
Hi-Tech Engineering Services
Ahmedabad (India)
Tel: +91-794-000-3252