The Impact of 3D Printing on Onshore Manufacturing
Posted by Kashyap Vyas on September 20th, 2016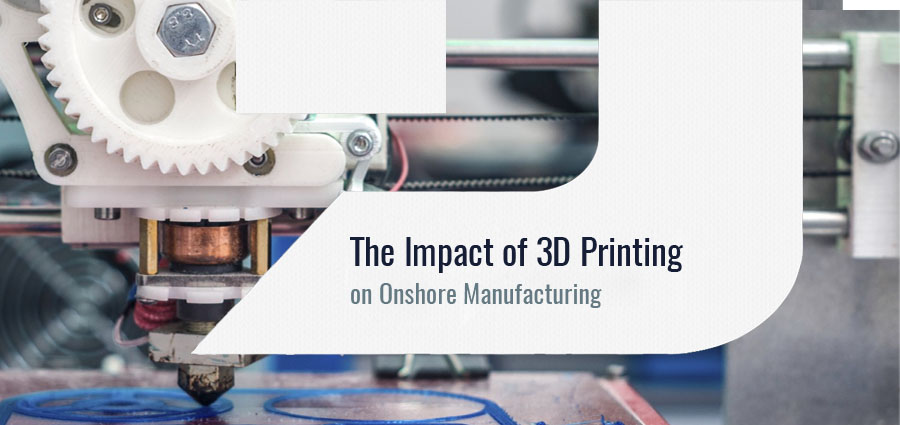 Product design and manufacturing is undergoing a revolutionary change with the advent of additive manufacturing. The use of 3D printing has not only transformed the way things are made, but have impacted the design as well, opening new business opportunities for market players. Moreover, the continuous improvement in the 3D printing technology and materials availability is further reducing the cost of adopting this technology. Touching our everyday life, additive manufacturing is no longer a niche technology. As a matter of fact, it is being utilized across diverse industries regularly.
It is expected that within the next decade, almost every commercial airliner will have 3D printed parts in its construction. The use of this technology is already prominent in automotive and industrial equipment manufacturing for prototype development as well as development of end-use, functional parts. The efficiency surge with the help of additive manufacturing is also transforming the product design workflow, since it has significantly changed how the products are manufactured and where they are manufactured. This technology is also seen as an important contributor in global economic shift, and impacting the onshore manufacturing industry.
Impact of 3D printing on Onshore Manufacturing
The significant decline in U.S. manufacturing due to low labor cost countries like China is gradually reducing. Although the cost of manufacturing in these countries are lower, challenges like the large distance involved in product development has led to complications. Lead time is longer and the cost of import and export, shipping and inventory is more. Moreover, the prime issue of working with manufacturers that are distant is not helping in optimal product design and development goals. Also, there is a significant awareness within customers regarding climate change and requirement of support to local economies, adding moral incentive for firms that are interested to manufacture products locally.
To support local manufacturing, additive manufacturing has emerged as a valuable solution for companies. Although not the sole driver, 3D printing has enabled manufacturers to develop complex designs with reduced development time and increased efficiency. Moreover, the labor market is shifting from human labor to technology driven and engineering expertise. This can be sensed by the increase in the use of additive manufacturing services by 40% between 2013 and 2014, according to a 2015 report from Wohlers.
The prominent advantage of additive manufacturing in product development is during the prototyping phase. It is possible to develop a functional prototype with all the features of end-use product cost-effectively, as compared to traditional prototype manufacturing, where high cost is involved in developing the tooling. Rather than the design tossing back between the production and design teams, 3D printing prototypes can be produced by designers locally without tooling. It is easy to iterate the design, without the risk of incurring costs or delays in the production. Prototyping also allows to designers to receive feedback for the end-customers in early design phases.
3D printing also enables transforming the product inventory from physical to digital. The CAD files can be stored easily with few investments as compared to storing physical objects. It then becomes easier for designers or companies to revise the product designs whenever required. This approach doesn't even require firms to hold on to the tooling necessary, keeping the organization free from costly inventory management. These benefits as such allow the manufacturers to produce products at lower prices and compete in the market better.
However, the only barrier to adopting this technology is the high initial cost of acquiring the required 3D printing equipment. This issue however can be resolved through outsourcing.
Outsourcing Benefits
Although 3D printing is becoming affordable and slow finding its way in homes and small businesses, outsourcing service providers are still valuable for companies seeking cutting-edge technologies that are not affordable. Since, the technology is improving rapidly it is better and more affordable to opt for services rather than investing in the equipment that is bound to be replaced in few months. For rapid prototyping service providers, the equation is different. For them, it is valuable to keep on investing in latest technologies, since they operate their business with this principle.
What is even more beneficial for local manufacturing firms is to get access to talented and experienced personnel, who have sound knowledge on the 3D printing technology. Thus, it not only gives an access to technology, but also to expertise. There are technologies like Selective Laser Sintering that require a skilled team as well as additional equipment for post-processing, which is often difficult to implement locally. Even for companies with in-house 3D printing facility, it is often good to outsource the prototype tasks initially to ensure that products are developed with high degree of quality and functionality.
Additive Manufacturing for Functional Parts
Gradually, the additive manufacturing technology is transforming from a method used for prototyping to developing functional parts for end-use. It is already being employed in many industries to develop functional parts; especially in the aerospace and automotive sector this change is significant. The ability to develop lightweight, complex geometries as a single piece is enabling this technology to be adopted by most of the industries.
Fused Deposition Modeling is one of the technologies that develop parts with materials that are nearly identical to production materials used in traditional manufacturing. Apart from metal printing, consumer graded plastics, rubber, carbon fiber and other bio-based materials are further enhancing the capabilities of additive manufacturing in medical industry.
Interested in outsourcing 3D printing for your product design? Send us your requirement at [email protected]

About Author: Kashyap Vyas is an Engineer at Hi-Tech and holds a Master's degree in Thermal Engineering with several research papers to his credit. He covers CAD and CAE topics for the engineering industry. His contributions are primarily focused on encouraging manufacturers and suppliers to adopt virtual product development tools to build efficient products with reduced time-to-market.