Supporting Sheet Metal Product Design by Shifting from an Outsourcing to Productivity Partner
Posted by Kashyap Vyas on May 5th, 2016
Manufacturers often outsource CAD activities to leverage the product design and development process and bring products to market as soon as possible. It is indeed logical to shed non-core activities of the product development cycle to outsourcing engineering firms, if the goal for manufacturers is to remain competitive and cost-effective in the market. In most cases, outsourcing engineering design companies would consist of CAD specialists, who despite very little industrial exposure would create drawings and 3D models from sketches efficiently. This might work well for 3D solid modeling using tools like SolidWorks, as objects are developed as is from the design data made available by the client.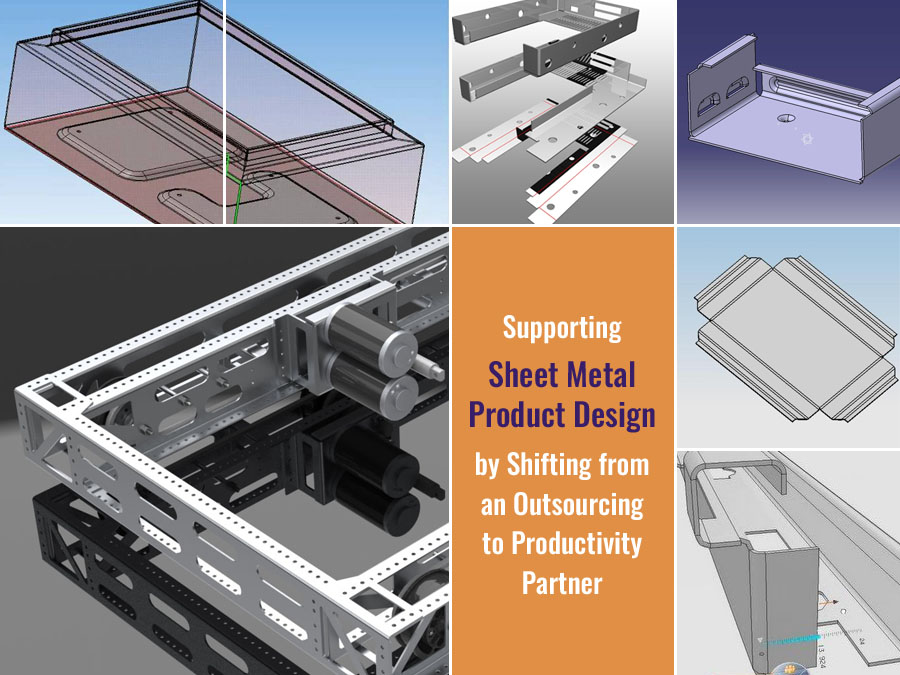 The real problem, however, with this setting, is in SolidWorks modeling of sheet metal components that are widely utilized in furniture, building products and mechanical equipment applications. Theoretically, sheet metal product design and development is easy; you draw a component and send it to the sheet-metal fabricator, who then converts the plan into the required part. The reality, however, can be a lot more complicated.
Sheet metal manufacturing has unique constraints which are often not considered at the design stage. While designer works on a sheet metal 3D model, the actual manufacturing occurs with a flat sheet metal blank, which often leads to chances of errors, requiring frequent changes in the design or a complete overhaul in many cases. A distantly sitting CAD specialist is hardly aware about the shop set up and provides digital design information that despite looking perfect consists of errors in the form of incorrect bend allowances, ribs, collars, embosses, etc. that stretches the development schedule unnecessarily.
The need then for outsourcing firms, is to bring a knowledge drift that brings awareness within the teams about the actual sheet metal manufacturing processes, which varies from shop to shop and project to project. It is important to move from volume-based approaches to value-based approaches and shift the entire concept of outsourcing partner to productivity partner, to serve beyond saving time and money.
What is essential for CAD specialists within outsourcing firms is to acquire knowledge on sheet metal fabrication process, by squeezing out as much information as possible from the client about the tools and existing shop setup. It is equally important for clients to share knowledge on their goals and resources, to better scrutinize design, determine flaws and enable faster product development.
The objective for any sheet metal product development is to minimize material scrap and develop design that requires fewer steps to build the component. The same design can be laid out on a flat piece of metal with different orientations. A designer must realize this and discuss the flat pattern with the client to ensure that an optimum orientation is chosen to reduce material scrap. Based on the knowledge base, the CAD specialist should add gussets, tabs or weld beads accordingly to the CAD file. This approach will enable the sheet-metal fabricator to save significant resources and material cost as well as help in building the component faster with fewer design changes.
Being lightweight, strong, conductive and non-corrosive, sheet metal has myriad of applications and has a bright future ahead, especially for building products, furniture and mechanical industries. What is essential however, for outsourcing firms and manufacturers, is to mutually allow bi-directional knowledge flow on design and manufacturing, to stand out successful in a competitive landscape.

About Author: Kashyap Vyas is an Engineer at Hi-Tech and holds a Master's degree in Thermal Engineering with several research papers to his credit. He covers CAD and CAE topics for the engineering industry. His contributions are primarily focused on encouraging manufacturers and suppliers to adopt virtual product development tools to build efficient products with reduced time-to-market.