Putting More Engineering to Manufacture Safest Tornado Doors
Posted by Kashyap Vyas on April 4th, 2016
Tornado resistant doors are one of the special products for sheet metal door manufacturers today. One of the main reasons for this could be the fact that tornado shelters are now being seen as a part of the normal use of the space rather than seen simply as shelters that protect the occupants during extreme weather conditions. It is also special because of an increasing awareness in public about the need for properly designed shelters due to large number of high-profile tornadoes over the last few years. While the tornado doors appear similar to standard steel doors, they are largely different from the design perspective.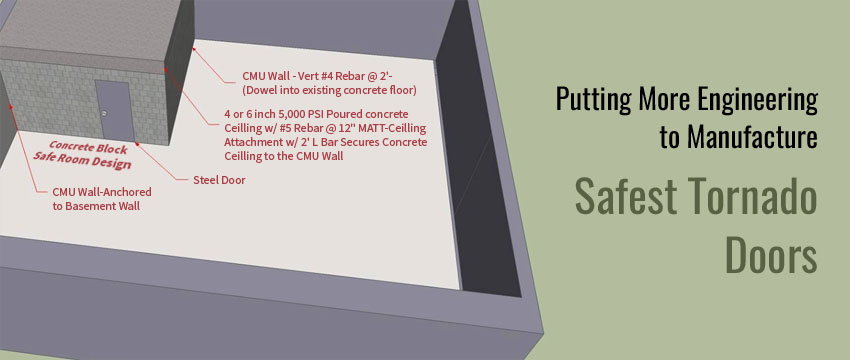 Unlike the hollow sheet metal door design, these special doors are highly engineered products to resist wind loads and impacts due to debris during hurricane or tornadoes and cannot be replaced by any ordinary heavy gauged standard steel doors. It is however surprising to note that despite the proliferation of advanced computational technologies, most manufacturers still prefer conventional testing approaches to build storm-resistant doors that were developed years ago by federal and international safety bodies.
While these testing techniques have stood their test of time, there are certain limitations which do not allow manufacturers to explore alternative design possibilities that can not only reduce the cost but perform better in extreme loading conditions.
Testing Tornado Doors
Today, tornado door manufacturers are required to test their designed doors considering numbers of parameters, as per the specifications and design criteria laid by central authorities like FEMA (Federal Emergency Management Agency), NSSA (National Storm Shelter Association) and ICC (International Code Council). It is extremely important for manufacturers to follow these design and testing standards as well as for end customers to understand the difference between the standard steel door and tornado resistant door, to ensure that it does not fail under the influence of forces generated due to tornado, like the one happened in Mayflower, Arkansas in 2014 that took life of one of the occupants.
The FEMA 320/361 and ICC 500 are the two major standard testing codes that manufacturers follow to build tornado resistant doors. The physical testing of these doors include the study on structural strength of the door against wind loads, pressure as well as the impact of windborne debris. The test is conducted by spearing a 15 pound sawn lumber 2×4 at speeds that correspond to the specified wind speeds ranging from 130mph to 250mph.
Use of Simulation Tools to Improve Tornado Door Design Further
While the testing conditions are defined based on previous experience and metrological data, there are chances of conservatism present in the door design being finalized. Moreover, the tests do not completely explain the behavior at the structural level to understand the impact of stresses resulting from impact loads. Similarly, effect of impact on the hinges, studs and door frame cannot be completely understood with the physical tests. The end result is a tornado door design that is expensive and conservative, that could have been turned better.
A better design for tornado doors can be achieved using simulation tools prior to physical testing process. With all the loading data and material information available, today's robust FEA solvers can predict the structural behavior of the door subjected to impact loading very much closer to reality. One of the benefits of simulation tools is that it allows experimenting with different materials and designs apart from steel structure, enabling manufacturers to identify better designs that compete well in the market and is also sustainable against extreme loads. Simulation further helps in reducing physical test trials and associated costs, which ultimately helps the manufacturer to price the product competitively.
The existing testing standards and loading information can be leveraged further and utilized for virtual testing purposes to build safest tornado doors and create and win-win situation for both the end customer and the manufacturer.

About Author: Kashyap Vyas is an Engineer at Hi-Tech and holds a Master's degree in Thermal Engineering with several research papers to his credit. He covers CAD and CAE topics for the engineering industry. His contributions are primarily focused on encouraging manufacturers and suppliers to adopt virtual product development tools to build efficient products with reduced time-to-market.