CAD Modeling of Medical Devices: A Key to Balance Compliance & Innovation
Posted by Jaydeep Chauhan on February 1st, 2017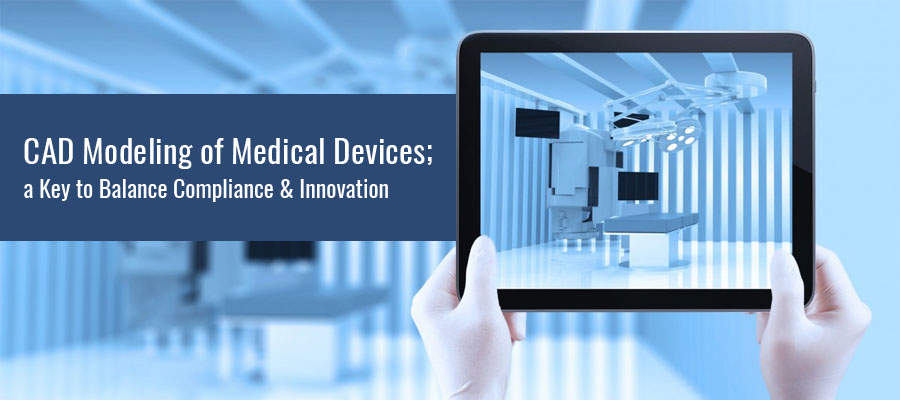 It is a common perception among the medical device design engineers to put the innovation on the back burner to abide by the ever growing regulations of FDA [The Food and Drugs Administration]. However, Computer-aided designing – CAD, being already prevalent in many industries for several decades has acted as a tool for following the mandatory regulatory compliance clubbed with innovations. In the medical industry, CAD modeling and drafting has occupied a prominent position in several strategic aspects for a variety of verticals. Let us have a detailed look for some of the important one.
# 1: Improved orthopedic surgeries with CAD drafted surgical devices
Although the initial computer integrated surgeries were developed in 1980s, the recent precisions developments in the surgical instruments originating from accurate designs have changed the face of the most crucial surgeries. Without the recent novel developments in CAD modeling and accuracy achieved for medical industry, orthopedic or joint replacement surgery wouldn't have been able to fit so perfectly, nor position so accurately with the human bones. Another remarkable CAD innovation in medical industry is the osteotomies and the spine surgery. The precision that the instruments designed using CAD models provide for these surgery has set the new benchmarks for professionals in both, medical product design development and surgeons.
# 2: Dental implants to go more accurate with CAD
While coping up with the increasing regulatory standards, it became difficult to incorporate innovations with the new products. However, with CAD modeling, making dental prostheses and other implants with most innovative ideas and complying with Unique Device Identifiers [UDI] designed by FDA become feasible. Alongside the Computer-aided designing, Rapid Prototyping became prevalent which eased the manufacturing of dental restorations, precisely as per the anatomical variances from patient to patient. Moreover, extending the use of some of the manufacturing techniques such as ones employed in milling machines, to Chairside dentistry used through laser milling machine.
# 3: Endoscopy too can use CAD
CAD technology is indispensable for making endoscopic systems flexible. While endoscopic surgeries demand a sterilized work atmosphere, the surgical devices also need to be manufactured with precision and clean manufacturing techniques. For instance, autoclavable video-laparoscope for providing a sterilized work atmosphere and a flexible colonoscopy for detection and removal of colorectal lesions are designed and manufactured by CAD/CAM technology for obtaining precise dimensioning and accurate geometry. Another major reason for resorting to CAD drafting for surgical instrument is they are extremely expensive and more importantly human life is at stake.
# 4: Some miscellaneous and indirect use of CAD technology
Besides the direct CAD modeling and drafting for various instruments used in medical industry, CAD technology as a whole has also very smoothly found its applications in other medical applications like radiology and other X-ray involving practices. To suffice this, Highland Breast Imaging Centre in Rochester in New York, makes use of CAD technology and CAD software to compare all the mammograms against digital data and detect subtle abnormalities overlooked by the human-eye.
Conclusion
CAD technology with its incredible modeling and drafting tools has made significant impact on medical devices and surgical instruments for incorporating innovations with the standards. Just the way CAD has become an inseparable part of machinery industry, slowly but gradually it is becoming an integral tool for designs and modeling of medical devices as well. Some of the major reasons to the question of 'why is CAD being accepted so swiftly in medical industry' is because of the accuracy and precisions in drawings, along with certain extended benefits such as an aid in precision manufacturing using computerized techniques, rapid prototyping and likes. With a variety of such inherent CAD benefits it becomes inevitable to overlook CAD and the benefits CAD modeling brings.

About Author: Jaydeep Chauhan is an Engineering Specialist working at Hi-Tech Engineering Services for the past 1 year. He caters critical engineering challenges with ease and performs exhaustive procedures to develop robust, well-engineered and high performance designs. He can always be found in the lab discussing, brainstorming and tweaking designs.