CAD is Gen Y Design Engineer's Tool for Ergonomic Furniture Designs
Posted by Jaydeep Chauhan on February 15th, 2017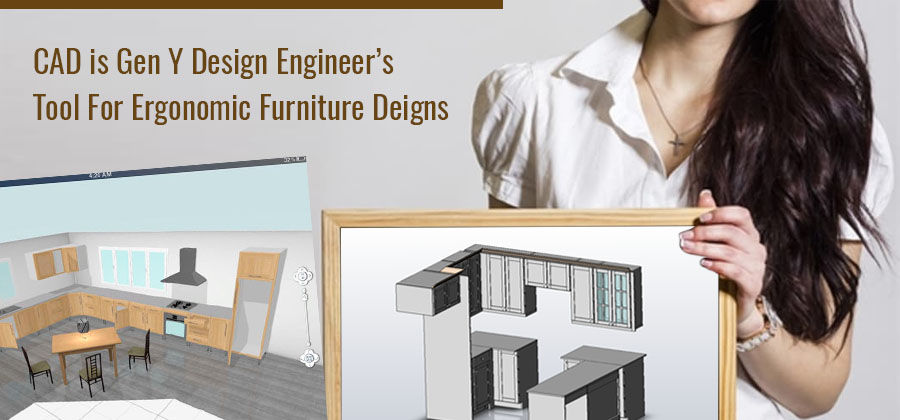 "Manufacturing processes have to be technologically driven for them to have a sustainable future." – Dermont O'Donovan, Head of Department, Galway-Mayo Institute of Technology.
This is something they teach to their young minds and by the words, 'technologically driven' he only means it literally. He emphasizes on the inclusion of CAD technology right from the inception of the idea and all the way through fabrication. Achieving the best designs in a furniture piece is the only way to increase the sales revenue, which comes from ergonomically designed pieces.
"Customers are attracted by the phrase 'ergonomically designed' and the products with the tag have higher tendency to be sold easily and quickly." says Levent Caglar, ergonomics team leader, Furniture Industry Research Association [FIRA].
Secondly, according to British Furniture Manufacturers' the sales of manufactured furniture has tanked from 47% to 44% in 2015. This clearly suggests that furniture products need a change in style of designs and manufacturing approaches. All this brings us back to square one that is technologically driven processes. Computer technology combines design, marketing and manufacturing; and thereby contributes in delivering the most appropriate final products with improved productivity and profitability.
Why does Gen Y prefer CAD?
Today, most customers do not see furniture as a box. Instead, they are interested in furniture items that appear good and are of good value. This is applicable to not only luxury furniture but also office furniture such as desks, chairs, carts, office panels etc. along with the prefabricated equipment. This has made the designers' job complex to deliver the most intuitive concept designs in the quickest possible ways.
CAD software like SOLIDWORKS has been an incredible tool for today's engineers to inculcate all this in their designs. The versatility of the software not only lies in allowing complex design drafting, but design automation in furniture designs. This feature speeds up the design process since it contains various design templates to quickly add and generate digital models. For design customization and adding templates, getting in touch with a software developer suffices the need.
Currently, 'Just-in-Time' manufacturing practice is becoming a popular concept among the manufacturers to avoid the costs associated with inventory storage & management. This concept has essentially reduced the time consumed for fabrication and time to market. 3D CAD models allow quick fabrication drawings to be generated as and when needed, so that fabrication and assembly can be initiated without any delay.
As against those traditional separate fabrication sheet drawings, CAD generated fabrication drawings are derived from the finalized designs of 3D CAD models maintaining design consistency. With such digital workflow throughout the design stage, manufacturers and design engineers are on the same page. They stay informed across the product development cycle which allows expedition of product development process, efficiently. This essentially will avoid any ambiguity in interpretation of geometrical information, developing accurate prototypes for virtual testing and removes the chances of manufacturing defects.
To suffice this, while developing furniture designs for a retail store, iterations for quality checks were reduced to single stage by tests on prototypes having nearly 100% accurate results. This seamless design development, knowledge management of the product and handling the custom template was done easily by bringing design automation aboard.
Considering such instances, it would only be so wise for established furniture manufacturers to go with the flow, which Gen Y is following. From ergonomics to good appearance, product development to optimized designs with FEA and CFD and from reverse engineering to manufacturing; CAD solutions assist furniture product design engineers with its versatile features and flexible engagement model to meet any customized requirements varying from project to project.

About Author: Jaydeep Chauhan is an Engineering Specialist working at Hi-Tech Engineering Services for the past 1 year. He caters critical engineering challenges with ease and performs exhaustive procedures to develop robust, well-engineered and high performance designs. He can always be found in the lab discussing, brainstorming and tweaking designs.